BSides Knoxville 2019: The Guide
What you need to bring: Nothing! Not even a QR code — we'll register you by the name you used when you registered for a ticket.
What you might want to bring:
Business cards — this is a good opportunity for networking or job hunting!
A small notepad and pen for any ideas or reminders you want to jot down during talks. Of course, you could just use your smartphone for this.
A laptop, if you want to participate in BSides' second annual CTF. More details below.
A small backpack or bag for swag. Sometimes our sponsors provide bags, but we're not 100% sure of that at the moment.
Finally, when sharing thoughts or pictures related to the conference, use the hashtag #BSK2019 so that others at the event will see your posts!
Talks and Schedule
Sched, as the name implies, is the key to the event's schedule! You can log into your account, create your own personal schedule and even leave ratings and comments for speakers. You can even rate breakfast and lunch on Sched. The talks are color-coded by category and Sched will allow you to filter by the track (we have three tracks), category or technical level.
Sponsors
A big thanks to our corporate sponsors! Tickets cover less than 50% of the costs of the conference, so you have these businesses to thank for covering the rest. We've been very fortunate in that nearly every sponsor this year has been a sponsor in the past!
Cisco once again supports us as our platinum sponsor for this year!
Big thanks to Sword and Shield for supporting us at the Gold level!
Finally, thanks to Tek Systems, Optiv and Contextual Security for supporting us at the Silver tier this year.
Logistics
There are many parking options near Market Square. The Market Square Garage is close, as is State Street Garage. Both will run you $7 for the day.
Registration will be in the KEC (Knoxville Entrepreneur Center) this year, though Scruffy City Hall is still Track 1 and Preservation Pub is still in use as Track 3. Each attendee will get a poster and a badge. Depending on what our corporate and community sponsors ship us, you may get a swag bag at registration as well. While our posters are awesome concert-style posters on thick stock, they're a bit of a burden to carry around all day. We'd recommend registering early to give yourself enough time to walk back to your car and drop off your poster.
Additionally, Travis Goodspeed was kind enough to print copies of a POC||GTFO 0x19 for every attendee!
Our luck with the weather has generally been good, but there is always a chance of May showers. Moving between tracks requires walking outside on the square, so check the weather and prepare appropriately.
We feed our attendees breakfast (donuts, don't tell our parents we called it breakfast) and lunch. If you have dietary restrictions, please tell us as soon as possible so we can prepare. We also make water, soda and coffee available all day. Take advantage of it and stay hydrated! Two drink tickets are included with every BSides ticket and can be reimbursed in Scruffy City Hall or Preservation Pub for an alcoholic drink. Don't drink? No problem — donate them to a friend or just leave them at the registration desk.
Note, however, that alcohol is not permitted on the square! If you get a drink at Scruffy, you have to keep it on Scruffy premises. Ditto for Preservation Pub. There is no alcohol available in Track 2, which is the Knoxville Entrepreneur Center.
The Badge
This year's badge is definitely the best yet. This year's board is based on the ESP32 SOC, which has Wi-Fi and Bluetooth capabilities built in and support for much more, like audio and SD cards!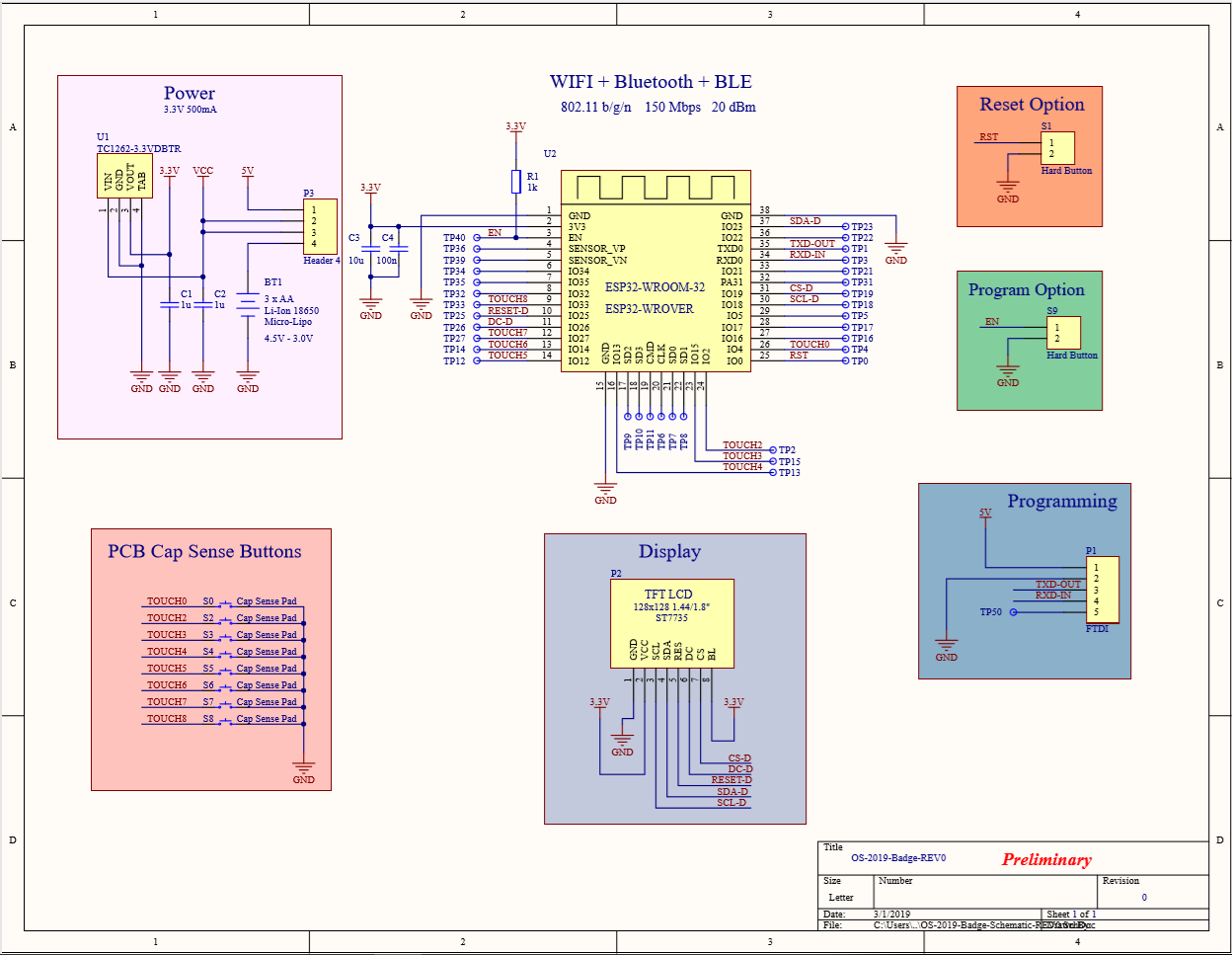 Also, look for full badge software and hardware specs to be shared on our Gitlab project page shortly before the conference.
CTF
This year's CTF is web-themed, though will require a variety of skills and tools to win, so be sure to assemble a diverse team! Like last year, this CTF is entirely planned and run by our local DEF CON group, DC865.
The CTF is comprised of a vulnerable webapp 'store' and a WordPress installation that may have some... issues. There are OSINT, crypto and stego challenges throughout.
If you have any additional questions, you'll be able to find the CFP crew on the second floor balcony of Scruffy City Hall.
Requirements
Team of four (you can work solo if you wish)
Laptop(s) w/Wireless capability
Favorite virtualization platform (.ovf format)
Internet access: unfortunately, we were unable to secure Internet access and Wi-Fi specifically for BSides Knoxville this year, but free/open Wi-Fi can be found all over Market Square, or you could bring a 4G hotspot.
Categories
Web Application
OSINT
Steganography and Cryptography
Miscellaneous
Rules
CTFs are meant to be fun. Please refrain from attacking the CTF infrastructure.
Do NOT attack other players.
Guessing a flag # is not allowed.
Most flags do not have to be collected in sequential order.
We respect fair play, we ask that you do not publish the location of the hidden flags.
If in doubt, come see us at the DC865 table on the second floor of Scruffy City Hall (go up the stairs to your left just as you enter).
For information on registration, please come to the DC865 table.
Code of Conduct
Borrowing from BSides Atlanta a bit:
Our "Code of Conduct" is "Be Excellent to Each Other" AKA the Golden Rule. Don't be a jerk (Staff reserves the right to determine what constitutes "Being a Jerk").
Asking questions of a speaker during their talk, to get clarity or debate a point is NOT being an jerk — heckling the speaker IS. If you are not sure, ask, or err on the side of common courtesy. If what someone is doing would not be acceptable to have done to you, your best friend or anyone else that you know, do not let them treat anyone else that way — whether you know them or not. If someone asks you to stop — stop.
Alcohol is served at this event. Track 1 (Scruffy City Hall) and track 3 (Preservation Pub) are bars. This is our fourth year and we haven't had an issue yet. Let's continue that streak!
If you see or experience something you're concerned about, please, let us know, regardless of whether it's an attendee, venue staff or someone hanging out on the square. Market Square is a popular downtown destination and police regularly patrol on foot.
Contact the Organizers
Email info@bsidesknoxville.com
DM on Twitter @bsidesknoxville
Or just find one of us or a volunteer - you can find organizer photos on this website and someone will be staffing the registration desk for almost the entire day.